El juego será de lanzamiento para el ex-Project Natal, Jet The Hawk confirmado.
ACTUALIZADA:
Sega, a través de su
blog oficial
, confirma
Sonic Free Riders
como
un juego que "verá a la familia y amigos controlando sus tablas voladoras o bicicletas totalmente personalizables dando vueltas y saltando en una emocionante carrera para ser el primero que cruze la línea de meta".
El juego podrá hacer uso de los avatars de X-BOX 360, y tendrá modo multijugador además del modo de un sólo jugador. No se ha dado más información.
Por último, la empresa del erizo azul lanzó un nuevo artwork donde se ve a Sonic y Jet The Hawk en sus tablas voladoras:
Ahora, el articulo original, no dudes en que volveremos a actualizar la noticia de ser necesario.
Era de esperarse. Cuando
Sega
registra dominios web
no es por cualquier cosa, y es que el sorpresivo rumor de una tercera parte de la saga
Sonic Riders
dejó felices a algunos y con urticaria a otros, por lo que una parte del
fandom
deseaba que no fuera verdad. Mala suerte para ellos, ya está confirmado.
Al final de la su conferencia E3, Microsoft mostró una imagen con los 15 títulos que acompañarán al Microsoft Kinect (ex-Natal) en su lanzamiento el 4 de Noviembre. Y entre ellos, se mostró claramente con una portada temporal, el rumoreado Sonic Free Riders: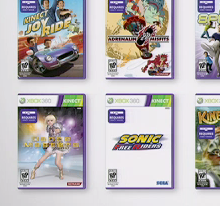 Ya comenzó la E3 y con ella el aluvión de novedades, quédate en Sonic Paradise para más detalles.
Fuentes: tssz|news, Sonic Stadium