Y sería jugable en todos los niveles, según los logros del juego.
Como sabemos, en Sonic The Hedgehog 2 apareció el legendario Super Sonic, una transformación del erizo azul que le permitía volar y le cambiaba el color a un rubio platinado, la cual podía usarse en todos los niveles siempre y cuando se consiguieran las 7 Chaos Emeralds y se tuvieran 50 Anillos. Muchos se preguntaron de qué manera se haría presente Super Sonic en el próximo Sonic The Hedgehog 4, y estas pueden ser buenas noticias para ellos.
El sitio web
Succes Full
ha conseguido
los logros que tendrá el primer episodio del próximo título descargable, que se dividen en 12 con 200 puntos a repartir. Hay algunos que tienen que ver con las Chaos Emeralds y con derrotar a Eggman, pero uno nos indicaría que Super Sonic puede ser jugable en todos los niveles:
La Historia Comienza
Supera SPLASH HILL ZONE, ACT 1. (5)

Enfrenta al Dr. Eggman
Derrota un jefe por primera vez. (5)

La Primera Chaos Emerald
Obtén una Chaos Emerald. (5)

Cazador de Enemigos
Derrota 1,000 enemigos. (10)

Flash Dorado
Supera todos los Actos como Super Sonic. (10)

¡Todos los niveles superados!
Derrota al jefe final y mira el ending. (10)

Contendor
Sube tus puntajes grabados y tiempos superados para todos los niveles. (10)

Coleccionador de Anillos
Colecciona todos los anillos en 'Special Stage 1′ y supera el nivel. (15)

Inmortal
Obtén 99 vidas extras o más. (25)

La Génesis de Super Sonic
Obtén todas las Chaos Emeralds. (30)

La Velocidad es mi juego
Supera SPLASH HILL ZONE ACT 1 en menos de un minuto. (35)

Intocable
Supera E.G.G. STATION ZONE sin ser dañado. (40)
Además, la web Succes Full ha subido las imágenes de cada uno de los logros, donde podemos apreciar el diseño de Super Sonic en blanco y negro: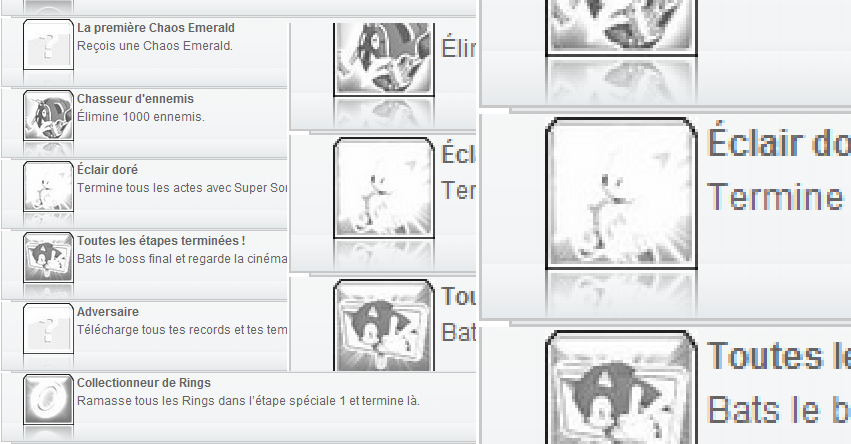 Recuerda que Sonic Paradise es tu fuente de información sobre todo lo referente a Sonic The Hedgehog 4, no te despegues de nosotros.
Fuente: tssz|news